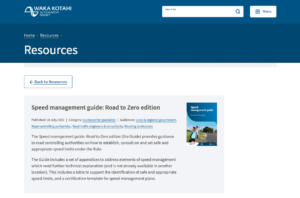 At the 2023 TRB Annual Meeting in January, Shane Turner presented to the ACS10 Transportation Safety Management Systems committee, informing them of New Zealand and Australia's approach to speed management.
Dr. Turner, the Technical Director for Safe Systems at Abley (a transportation planning and engineering firm based in New Zealand), discussed updates to the guide for New Zealand and how it could apply globally.
The problem? Only~15% of New Zealand's speed limits were aligned with the Zero Fatalities vision. Their solution? Establishing "The Land Transport Rule: Setting of Speed Limits 2022" with a goal to make a substantial difference to roadway safety. According to the New Zealand Transportation Agency website, the rule "establishes an integrated speed management planning process that considers how safety infrastructure, safety cameras and speed limits can be combined effectively to help achieve a safe transport system."
The second version of the "Speed Management Guide: Road to Zero edition" provides guidance on how to establish, consult on and set safe and appropriate speed limits based on New Zealand's Speed Management rule.
Find links to more Safe System Approach materials here