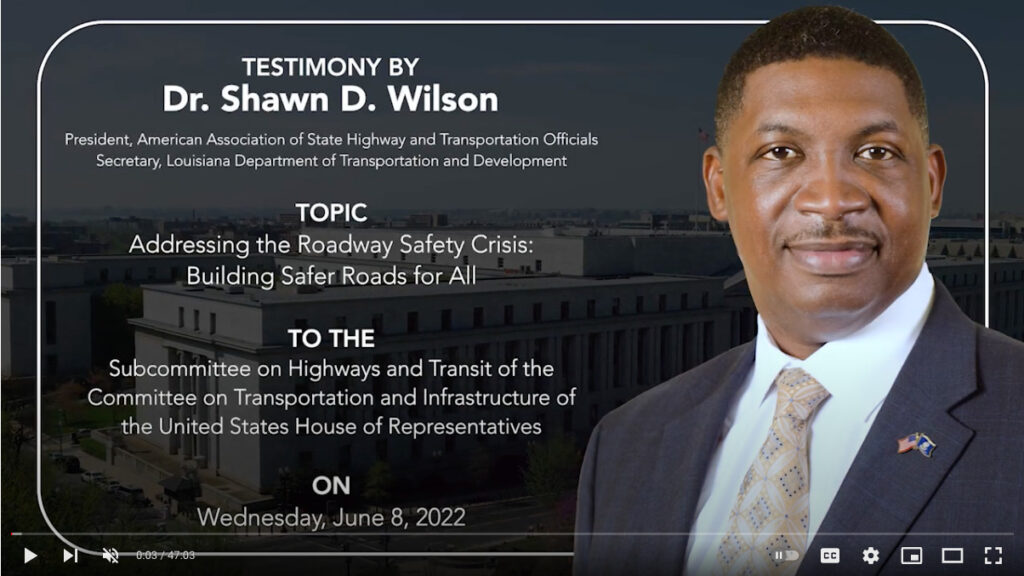 In May 2022, AASHTO and the Governor's Highway Safety Association (GHSA) worked together to provide comments to NHTSA regarding the Uniform Procedures for State Highway Safety Grant Program (NHTSA-2022-0036), published in the Federal Register on April 21, 2022.

AASHTO and GHSA's comments focused on the upcoming Triennial Highway Safety Plans, Annual Grant Applications, and related implementation of the Infrastructure Investment and Jobs Act (IIJA).

In a letter accompanying the comments, AASHTO asked NHTSA to consider:
Focusing IIJA guidance to States at the program level, to allow for effective collaboration between State traffic safety programs.
The importance of multiple layers of protection. Behavioral approaches, infrastructure safety programs, and more, are most effective when coordinated. The Highway Safety Grant Program and Highway Safety Improvement Program (HSIP) should have similar objectives and timelines.
AASHTO and State departments of transportation's commitment to incorporating equity, diversity, and inclusion in all aspects of transportation. GHSA is also committed to "save the lives of all road users."
Conflicts between existing and new code due to changes made by IIJA. Alignment of performance target requirements will allow States to continue demonstrating progress and to effectively deliver safety projects and programs.
AASHTO President Speaks on Safety at Highways and Transit Subcommittee Meeting
In June 2022, AASHTO President Shawn D. Wilson, Ph.D., Secretary of the Louisiana Department of Transportation and Development, represented AASHTO and traffic safety at Congress' Highways and Transit Subcommittee Meeting hearing, "Addressing the roadway safety crisis: Building safer roads for all."
The purpose of the hearing was for Congress members to discuss traffic safety, programs and policies included in IIJA to improve safety, and to hear from key stakeholders about their role in implementing IIJA and other roadway safety strategies.
Dr. Wilson's written testimony included examples of States that are moving forward in equity in traffic safety. More information on the examples from California, Louisiana, and Ohio are available at TowardZeroDeaths.org. He also mentioned AASHTO's recent compilation of "State DOT's Delivering on the Public Benefits of the IIJA." Read Dr. Wilson's full testimony.
Additional themes from the hearing:
NHTSA estimates show traffic fatality numbers continuing to increase.
Labor, cost of raw materials, and inflation will impact implementation of projects funded by IIJA.
The MUTCD should be modernized to better align with the Safe System Approach.
Local and rural jurisdictions will need flexibility and help to implement safety projects funded by IIJA.